Here is a very incomplete list of some of the trips the Eldon have been up to recently.
Members, login to write a new trip report....
Details

Written by

Jon Pemberton

Hits: 265
Only Jeff and I tonight so rather than not doing much down IDM we thought we'd not do much down Waterfall Hole instead! Jeff had never been down in his extensive caving career and I'd not been down for years. We had our normal pre-beer and could hear the Waterfall pounding down in the shake-hole, it had rained all day but the clouds had now moved on leaving a crisp, cold, clear night. 
We headed underground around 8pm (late for us), the shake hole was still backed up with water but appeared to be going down rather than coming up. The entrance crawl was pretty grim as was Wardwins Crawl but not a rank as my memory served. We SRT'd down Hockenhulls Rift and got lost straight away. Our main aim was to get to Waterfall chamber and check out Great Gunns Rift then head down to EPS aven. We succeeded in the first aim after some novelty route finding efforts but I couldn't for the life of me find the way down to EPS Aven. Water was still high in the cave which restricted us from entering certain parts/voids. After an hour or so's pottering we decided to head out and vowed to return in slightly dryer conditions for a proper good look.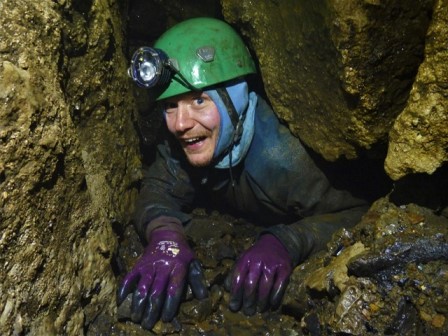 It's certainly an unusual place and as the late, great John Beck wrote in an old TSG journal, The cave is in a constant state of change and one day some keen (or lucky) explorer will eventually find (or stumble) across the continuation which must lay below.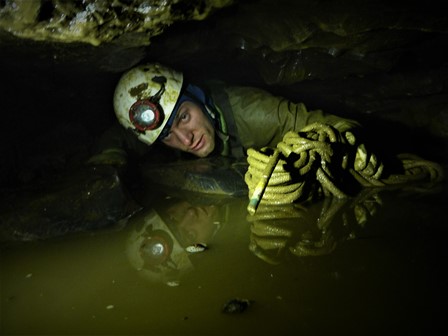 Details

Written by

Jeff

Hits: 363
After acquiring a few free bed nights a Nenthead it only seemed fitting that we have a weekend up there to see a few mines, as for the majority of us it had been many years since our last visit.  Thankfully under the local capable hands of Dave Gledhill we stood half a chance of not getting lost and to see a few parts of the mine workings less visited. 
Saturday 5th Oct - Caplecleugh to Rampgill
For the Saturday a team of Julian, Ernie, Jon, Luke, Dave, and myself (Jeff), set off for a through trip of Caplecleugh to Rampgill.  For myself it was wetter than I remembered, and to be fair it had been raining a fair bit over the subsequent days.  Dave led us through the sough levels and on arrival in Smallcleugh we climbed up the ancient ladders into the workings above.  This was an insight, as generally in the stone clad sough level the size of the workings above are unknown.  Only on climbing up can the size of the workings be truly appreciated.  After a round trip in these upper levels we dropped back down and continued on the typical route through the system climbing up the calcited ladders taking in a few of the less visited passages, passing by the Ballroom before heading on to Rampgill.  All in all it was trip of about 7-8 hours underground and we were ready for some food.  Sadly Bob and Barny who were also with us on the weekend spent most of the Saturday morning looking for Bob´s collie that had run off on the moors.  She was later found at the vets, after a local had brought her in after turning up at her farmhouse. 
Unfortunately the Miners in Nenthead was not serving food due to a leek growing festival, so we had to head to Alston.  On arrival only half the town was illuminated due to a power cut.  Therefore our last option the Cumberland inn, we got served and then headed back to Nenthead to see some leeks and meet the locals.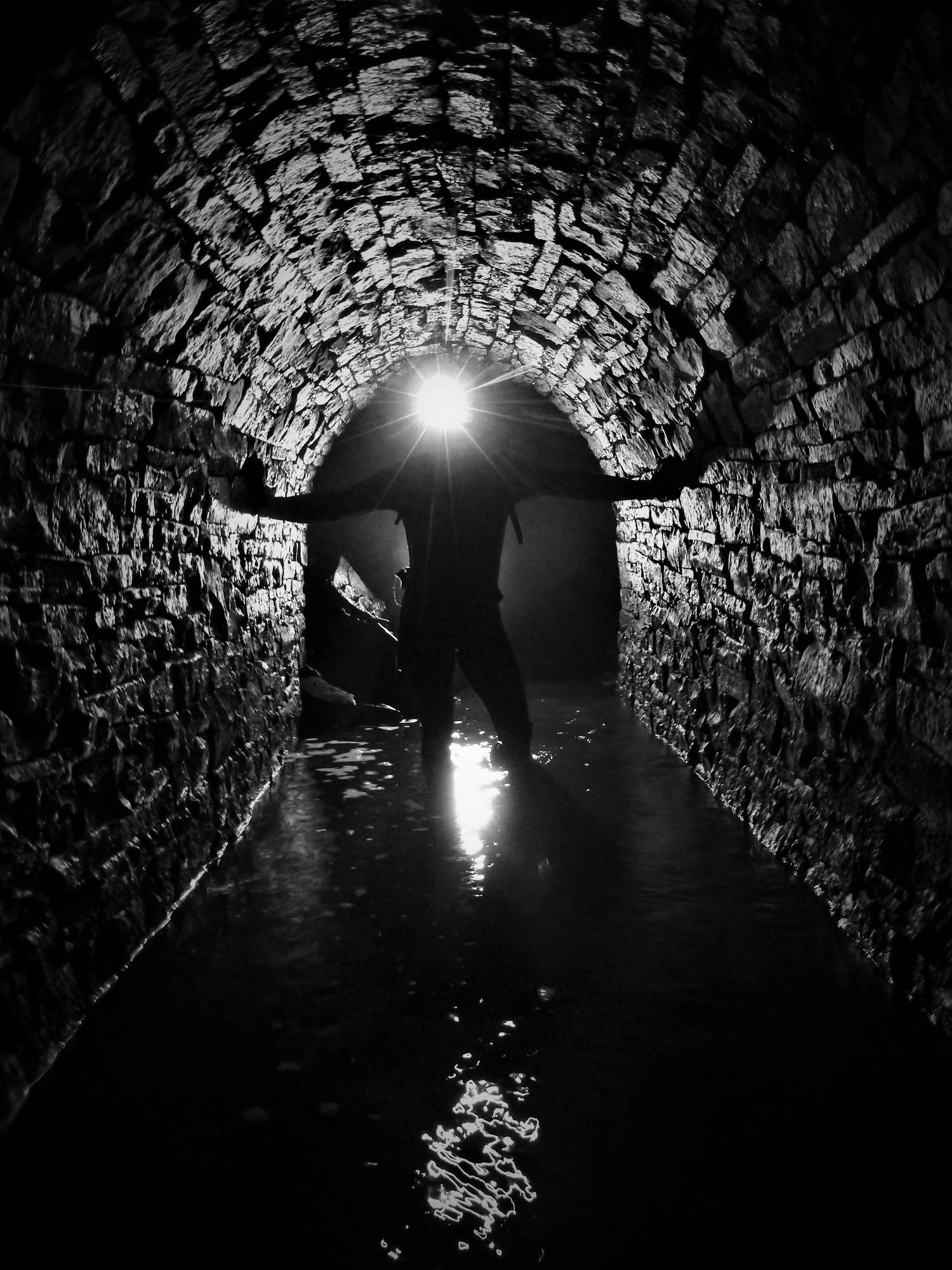 Sunday 6th Oct - Firestone Mine and Rampgill
For the Sunday the numbers had diminished, some on surface tasks, some with things to do at home.  Dave had selected a few simpler trips for the day, which started with Firestone mine that is mostly a dig.  Dave, Julian, Bob and collie, and myself (Jeff), set off for a view of their digging efforts.  It was impressive, I don´t think I have ever seen so many 1 tonne builders bags and sandbags stacked in one place underground.  A lot of passage had been regained, but the end was still yet to be seen too!  Bob came with us along the horizontal section, but headed out once we descend a series of calcited ladders, which on descending enlarged gradually in size to the deposition of the calcite, to the point that it was virtually impossible to place a foot between the runs and grip the sides of the ladders due to their size.  We headed out after this short trip and walked on down to Rampgill.  Here Dave took us on a trip up to the Norpex digs which is the level that branches off at Whiskey Bottle corner.  Here we passed through all of the Norpex digs and eventually climbed up into some dry workings above via ladders and jinged shafts.  Dave was keen to show us some traditional workings, but without a rope to climb across one of the open shafts by suspended plank (I was less than keen) we missed one of the better well kept bits.   One to return to another day.  Together we headed back out and took in a quick look at the Scaleburn Vein and the horse driven winding wheels. 
We came out to wind and horizontal rain in the middle of the afternoon.  A quick pack up and clean of the hut and back home we headed. 
Details

Written by

Jon Pemberton

Hits: 712
Team Awesome back in business finally after a year and a half absence i'm now permanently based back in Sheffield!
We went for a pre-cave pint celebration in the Red'n before parking a bit further down the road to gain access for the evenings antics. Rob had stumbled across a mine some years ago and Katie had recently noted it was draughting. We found the mine pretty easy within viewing distance from Peter's Stone and within 50m from Lingard's Cave. We all took turns to remove the grill covering the mine which had obviously not been descended in years. Luke descended the mine to -5m and gained entry to a short level which terminated at a collapse after a few metres. He descended to the bottom approx. -12m to a blockage in the floor with no way on. - Job done! Pub?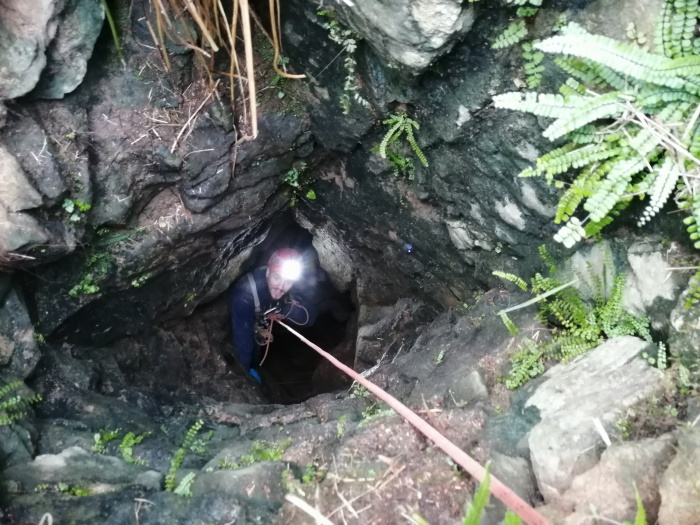 Luke check'n it out
We were still remarkably early for the Stags so Rob said there was an actual cave close by, Lingard's Cave. After eventually finding the entrance we all went in and marveled that the passage was pretty big in here. We all checked out every way on but nothing looked enticing. After completing the cave we retreated to the surface, now it was time for beer.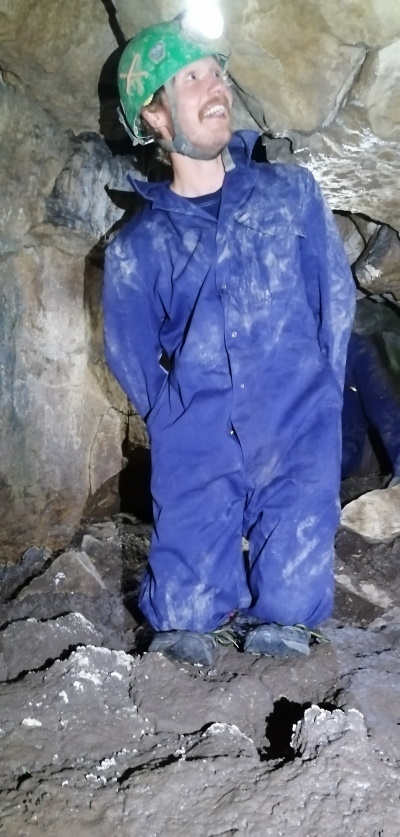 Jon marveling at how big it is!
Got to the Stags just before 9pm ready for the Eldon/Albania Expedition meeting. Not the exciting trip I had in mind but at least I got underground.