Intake Dale Mine
Discussions following on from the Bradwell Catchment Symposium and after reading reports from the 80's of natural rift and chambers, EPC members have re-descended Intake Dale Mine and embarked on exploring it further.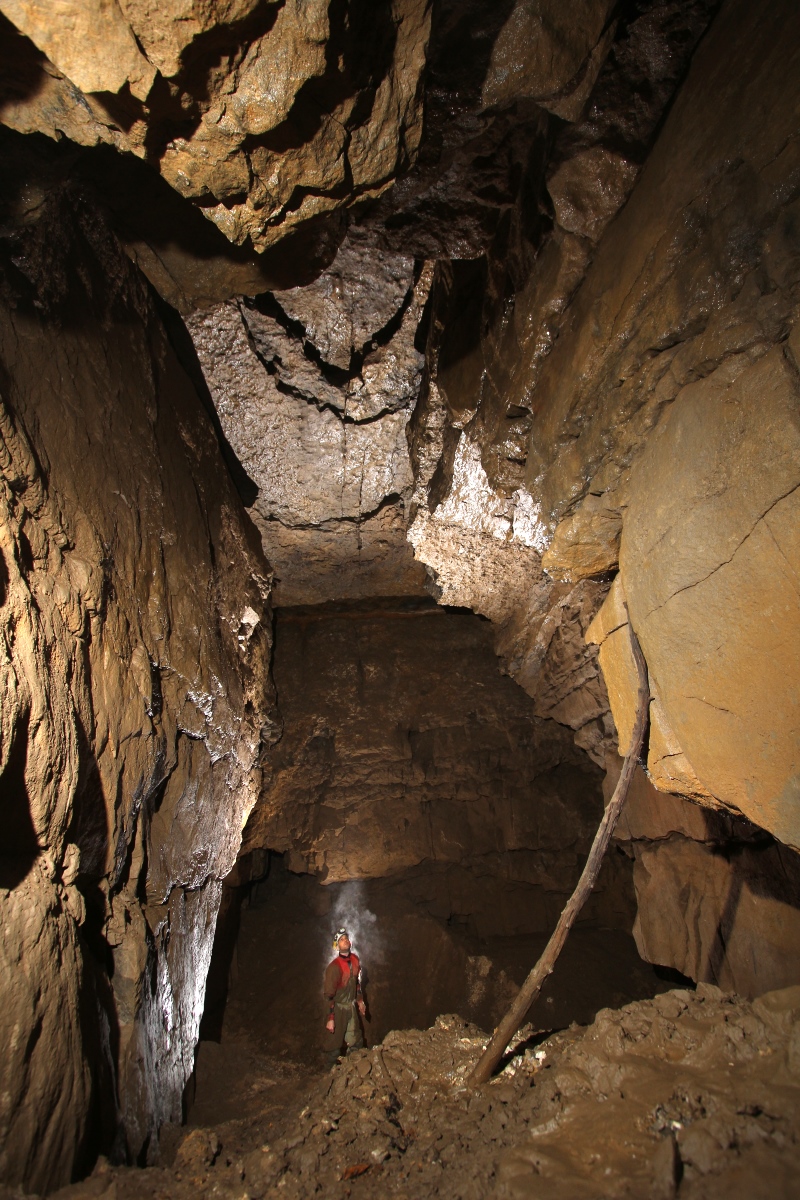 ---
Blogs:
Details

Written by

RobEavis

Hits: 10
Jeff & Rob
A quick trip pre-monthly meet to check out what happened after the last attack and to redo if necessary. Prebeers and chips got us prepared and we headed straight down to the Black Jack choke.
Thankfully it looks like nothing has moved in the choke and the rock that we had drilled had indeed slit nicely into two. Unfortunately the bigger half was still under pressure and it was unsafe to do anything there. So we drilled it again and used some different technology this time to see what effect that would have. Big 16mm holes and stemming take a while, which feels like forever when at the pointed end of this choke!  
We retreated back to a safe distance and let her go. A good pop but again no big collapse. Rubbish! I went back for a careful look, against Jeff's best advice. Great news that the air was totally clear (within 3 minutes) so the draught is obviously working well. The offending rock was completely obliterated into about 10 different chunks. However they were all still in place! The whole place was creaking and spitting rocks so i retreated to a safe distance. I prodded it with the longest scaf bar we had (only 1.5m) but nothing was budging. It must be holding up the whole hillside!
We will return with a much longer bar, although i hope it will have all collapsed by then...
Details

Written by

Jon Pemberton

Hits: 154
Just Rob and I for tonight's adventure as Luke was of having a baby and Geoff couldn't be arsed... Late start as we didn't have much to do so went underground around 7:20pm. We wasted no time and ticked off jobs on our to do list. 
First job head down to the entrance to Brexit Rift and pick up the remaining scaffolding from down there. There was only a couple of lengths but pretty decent in size decorated with a few useful scaff clips. I had a quick look at what Rob and Geoff had done last week then Rob and I started our trip ferrying the pieces up through the ginged shaft Luckily Rob let me carry up the shorter length bless him. 
Next job was to wang as much scaffolding in to the choke as possible to ensure that if the whole thing was to move 'hopefully' our engineered route through the choke would still remain. After lots of fuck-whittery and in-adequate scaff cutting room we had finally ticked this off the list.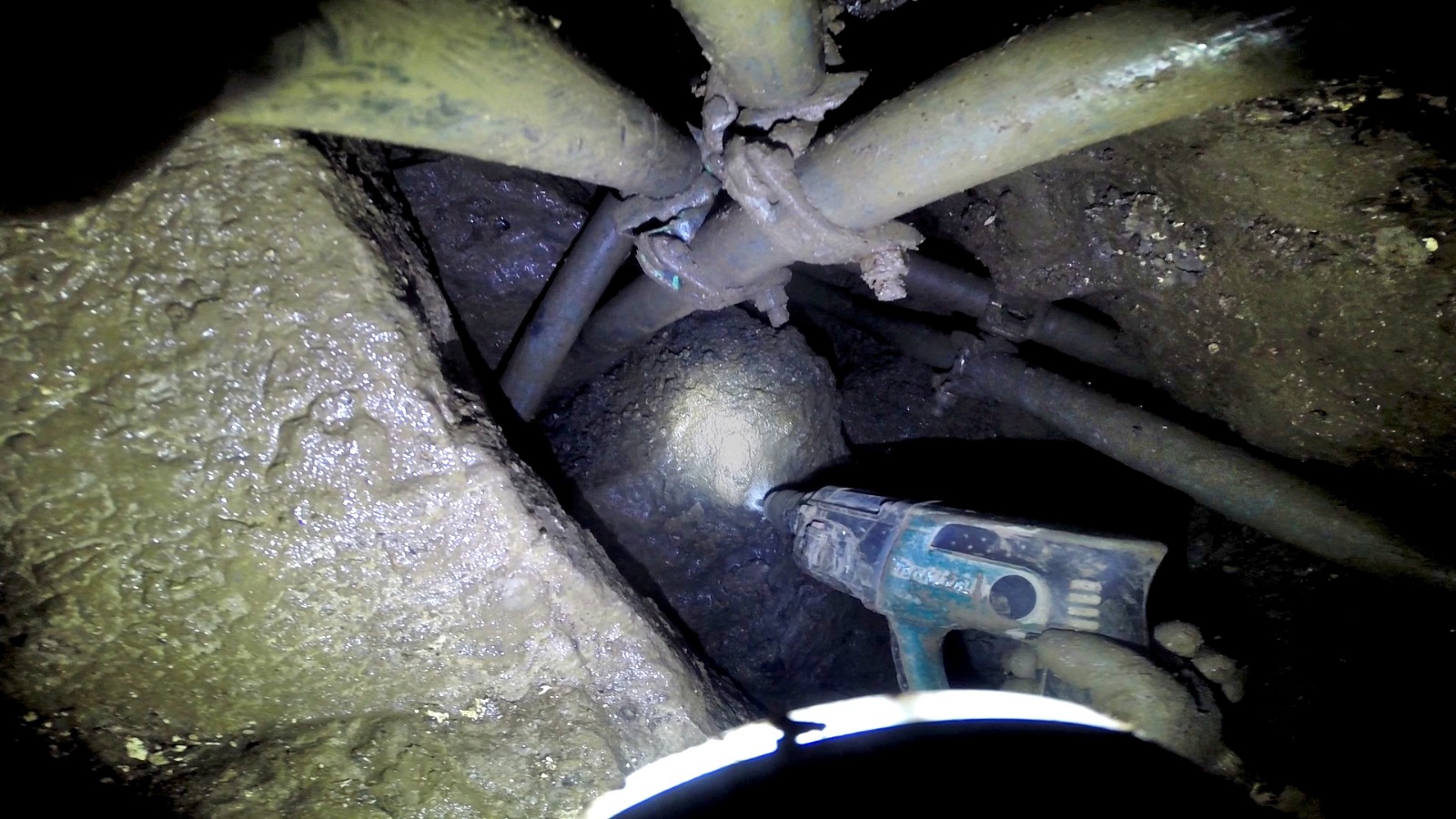 Final job was to remove the boulder blocking our route through to the spacious void we can see and hear beyond. Rob drilled a hole and once packed up we edged our way back to the main shaft. Slight hesitation to ensure we had everything we waited but the loud crack and rumble never happened, only a soft fart - DAMN!
This trip could've and would've been perfect but unfortunately it was ruined by the last 15mins. We headed out somewhat peeved and headed to the Red'n for the first pint of Belgium Blue of the season. Shall have to see what happens after a weeks worth of solitude down there.  
Details

Written by

RobEavis

Hits: 195
Jeff & Rob
The floods last week showed the steam emerging from below some boulders below a natural crossrift, so we decided this week to have a poke at the back to see if we could open a route into the upstream continuation. After a quick look about we each picked a side and started digging down. After a hour both of our routes looked pretty rubbish with lots of sediment between the boulders and no sign of anything opening up.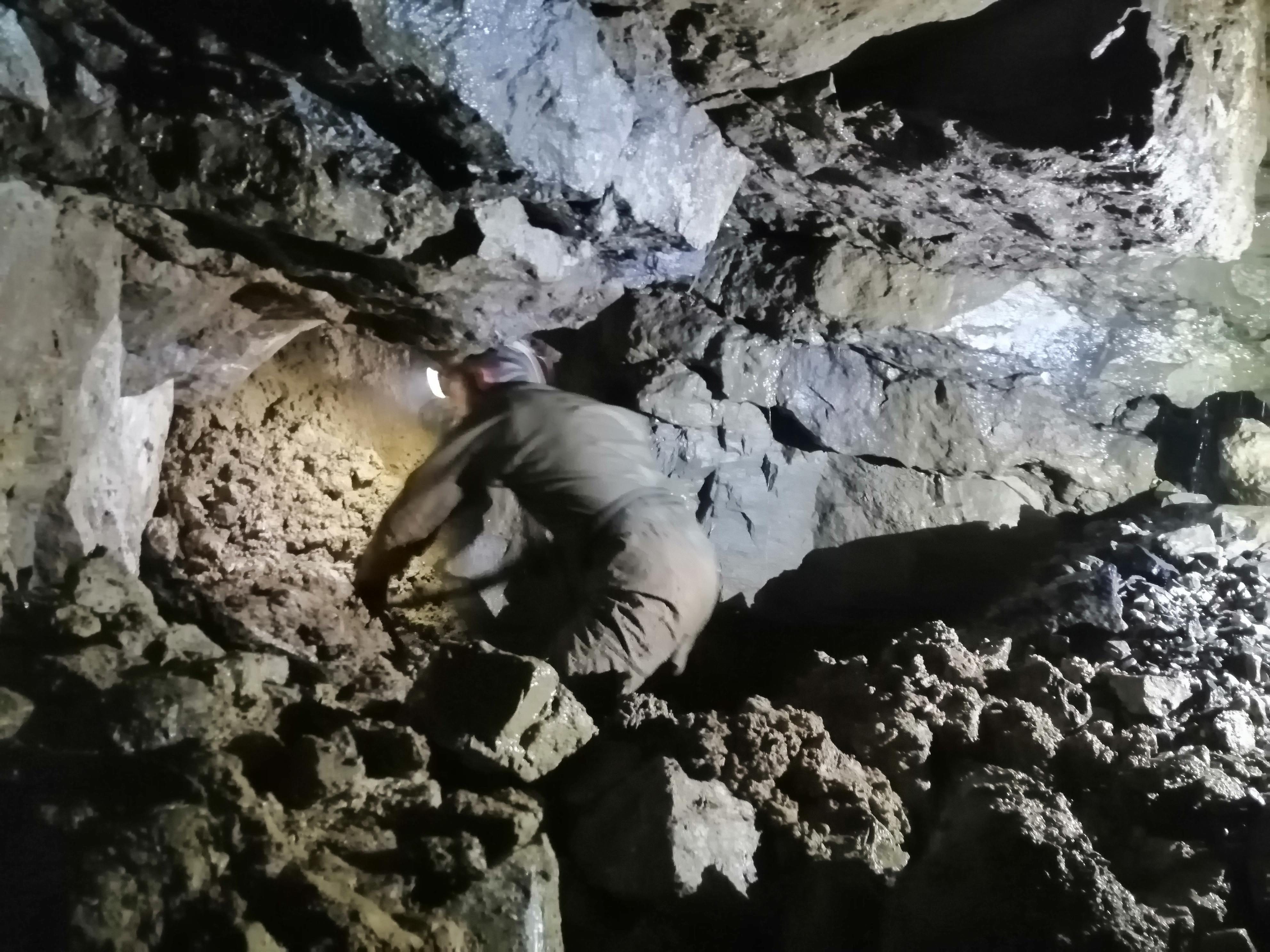 Disheartened and bored I convinced myself that this was a bad site anyway because any upstream continuation would likely still have to navigate through the large boulder choke to the west, so we might as well just keep attacking that where it draughts and is easyish.
I had a quick look at our dig and nothing had collapsed since last week, which is good. Next trip; more scaf and some bang...
Details

Written by

Jon Pemberton

Hits: 232
Well after a full day of down pour we proceeded with our prearranged trip down Intake Dale Mine (IDM). It was Team 4some and a rumour that Townsend might be topping up, hopefully this'll spark his interest and he might be able to finish off his first trip report from the place! Anyhoo...
The lay-by was super shitty and we got changed shouting profanities at the weather gods. We practically ran across to the mine and I inserted myself fairly quickly through the entrance slot into the dryness below. The entrance pitch was fine, even with the big lengths of scaff. The second pitch was starting to get wet and a stream could be heard below. Below... (third pitch) was super wet with a stream flowing in from back towards the entrance and a stream emerging half down the opposite side which is the wall of stacked deads! - eek. This was a bit worrying as all the water was coming straight through the ginging.
We headed for the dig and got to use the stemples for the first time which were fantastic! The choke looked a lot more scary now with a large void right above the dig face with a huge bonnet sized boulder chocked against the fractured back wall only being held by a small football sized boulder. Rob made a start on scaffing the place, once Jeff and Luke had joined us Jeff and I headed down to the natural at the bottom to see if there was any noticable watercourse. We made our way down the ginged shaft and climbed past the RSJ into the natural where Brexit rift heads off. We could now hear water very clearly so followed it down to the cross rift. Water was flowing from the roof which is the obvious continuation of the second pitch where the water emerges from tailings at the bottom of the shaft. Further on the water was RUMBLING!
We followed the roar and headed under the waterfall and down the rift to the large chamber where a stream 5 times the amount of the waterfall was thundering out from boulders in the floor. This was crazy!! I was jumping about, shocked at how much water was down here. We could tell the place obviously flows at some point due to the sediment down there but this was unreal! We followed further down the rift to the obvious cross rift where SamT had previously climbed from and traversed the roof, it was here where we decided to turn around.
We had a quick look down Brexit rift, the bottom 4m or so being flooded back up to the same level in the big rift. We grabbed a couple of pieces of scaff and headed back to the Blackjack Choke. We caught SamT coming down the ginged shaft and told him to get the others to head down here to check it out not wanting to miss the pub. Jeff and I took the scaff right up to the choke and had a quick inspection. Just as Jeff poked his head in a fistful size stone dropped through the freshly placed chamber which made Jeff come straight back out. Hopefully the whole place will stabalize itself for the next trip as it was looking super necky!
We headed back out and it sounds like Rob and SamT had a tad more wet trip than us as Rob got fully submerged in the large rift (TWICE), traversing a foot above the water level and jumping/falling in. 
We retreated to the Stags for the monthly meet to find the whole Bar 3 inch under water! A memorable one for sure.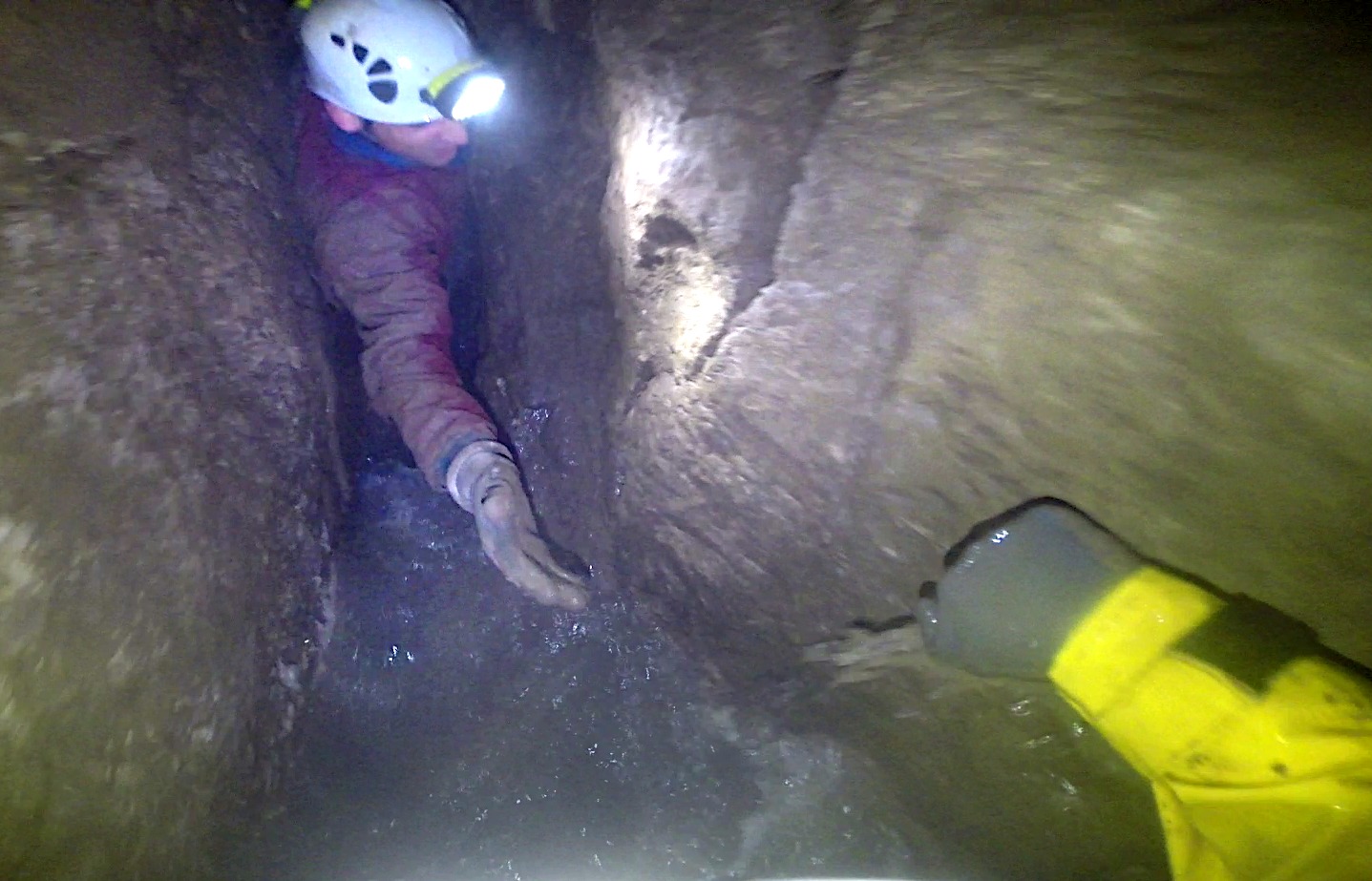 Sam and Rob battling along the (never seen before) streamway
Details

Written by

Jon Pemberton

Hits: 285
Just Rob and I on tonight's adventures. We only had a few bits of timber and a bag of tricks so opted for the rather average start time of 7pm. On arrival at the climb to the choke Rob inserted a couple of stemples to aid access up to the Black Jack Joke as one member of TA (Luke) couldn't make the climb - this makes life much easy and we do love the easy life.
Once at the choke we had a quick look and started to make progress of digging out the floor under the scaff (to the right of the massive boulder). Stuff was coming out easy and it was soon time to swap around so Rob could have a fettle. Rob inserted some more scaff and then let me go in for a second fettle to remove a large boulder which I delivered on time. Rob then went in for a final look see and inserted one more piece of scaff before knocking down a key chock-stone which we'd been looking at for a while. 
The chock-stone was pushed out with ease into the void behind which we'd managed to roll down a few rocks in between shifts which seems to have dropped for some way. This one made a completely different sound. It boomed and thudded its way down the void for a long while. Rob jumped back just as something little fell behind him from the un-shored side of the choke. Just as I was about to say its time to get out the whole world started collapsing behind him closely missing him by a few inches! A large TV size boulder which surely would've made a Rob pancake.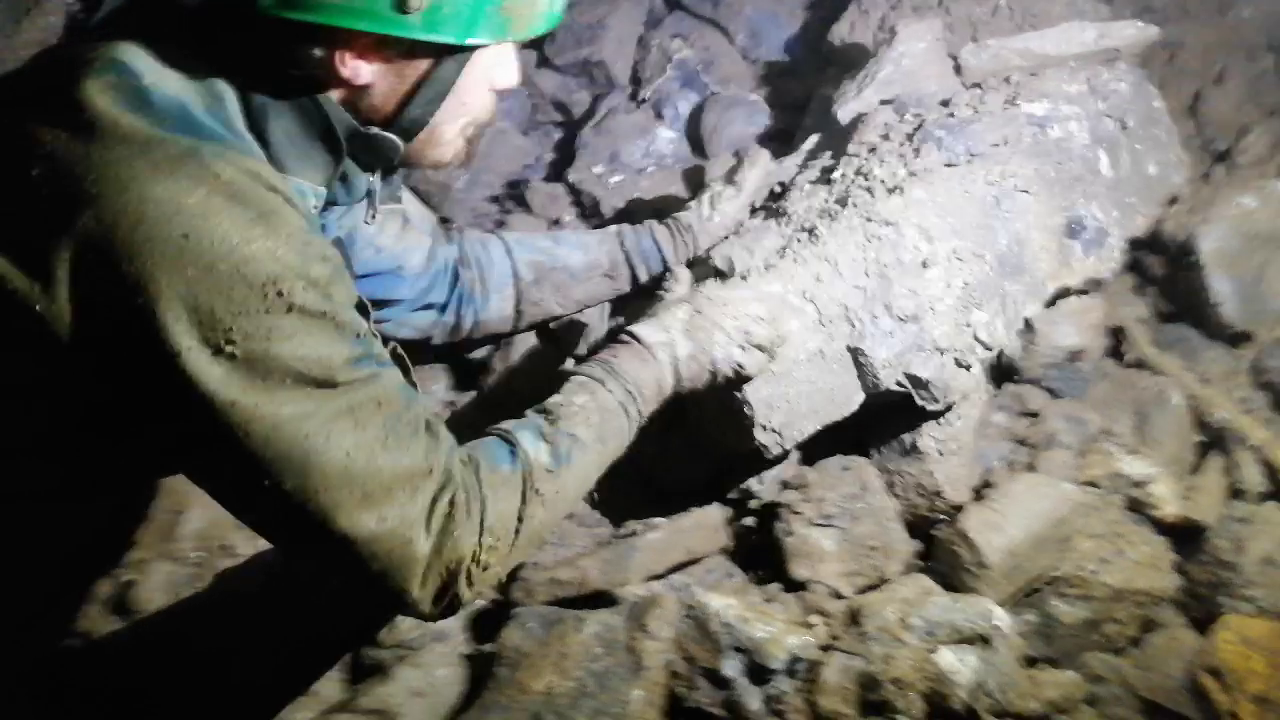 Now it was definitely time to retreat as the pub was calling. We exited swiftly and headed to The Anchor for some refreshments. Hopefully the choke has settled itself ready for next week - hopefully!