Bagshawe Cavern
The Eldon always have a number of active digs undergo in Bagshawe.
One that is currently receiving quite a lot of attention is the "Dead Ahead Dig" in the Full Moon Series.
[For more information regarding Bagshaw Cavern go to the dedicated page]
---
Blog:
Details

Written by

carl bergmann

Hits: 570
Continuing on we now needed to find the continuation of Harry Potters bedroom.
The first place to look was the chamber immediately to the right at the bottom of the stairs .This is full of rubbish including quite a bit of glass, but behind that is a silt bank in front of a natural bend in the passage .One corner certainly could be connected to the small dug out channel at the top end of Harry's and was probably open before the steps were cast on top of it .
We had hoped the silt bank was hiding a continuation ,but this was not the case . Somewhere lies the key to all this as the bottom of the steps has large natural passage obscured in many places by all the stacking .
Lockdown has stalled our efforts ,but there is a continuation around there just waiting to be found .
As soon as Boris says go we will resume the quest for Mulespinner series .
Dave Cowley , Bog (Team Average)
Details

Written by

carl bergmann

Hits: 718
Harry Potters Bedroom (the dig under the stairs )
11.03.2020
After a winter of failed trips , mainly due to key failure , lock failure , equipment failure and failure to drive past the pub, we happened upon this dig when a trip was cut short by a faulty lock. On our way back out we went up to see the Stemple of Doom . Dave has not been in to this passage before, and I could not remember what it was like .
Dave went beyond the stemple for a quick look ,and on the way back to the main passage we poked our heads in a small opening directly below the bottom of the entrance steps , back filled presumably by the miners .We realised the miners had filled a natural water worn passage with spoil, and after pulling a few rocks out we knew it had potential.
The opening into this area is just to the left, after  you turn left at the bottom of the steps .
We broke through after only 3 trips, and about 4ft in depth of spoil .An easy trip for a couple of average blokes (it takes us longer to get changed ) with an average trip time of 1 minute and 32 seconds .
Below it opened into open passage about 3 to 4 mtrs wide and about 1.2 mtrs high .Dave got quite excited at this point, a joyous thing to behold .Upstream finished at a choke after about 6 mtrs . This is probably directly under the mined passage at the bottom of the steps . Downstream went for approx 15 mtrs ending in silted up wide passage draughting very strongly . This is following the line of the mine downhill.
At this point we must add we are not the first people in here , a small trench has been dug towards the upstream choke and there was a single set of footprints at the downstream end . There can only be two explanations , either towd man had a look before he chucked the spoil down or the Revell's have been in but seen fit to back fill it .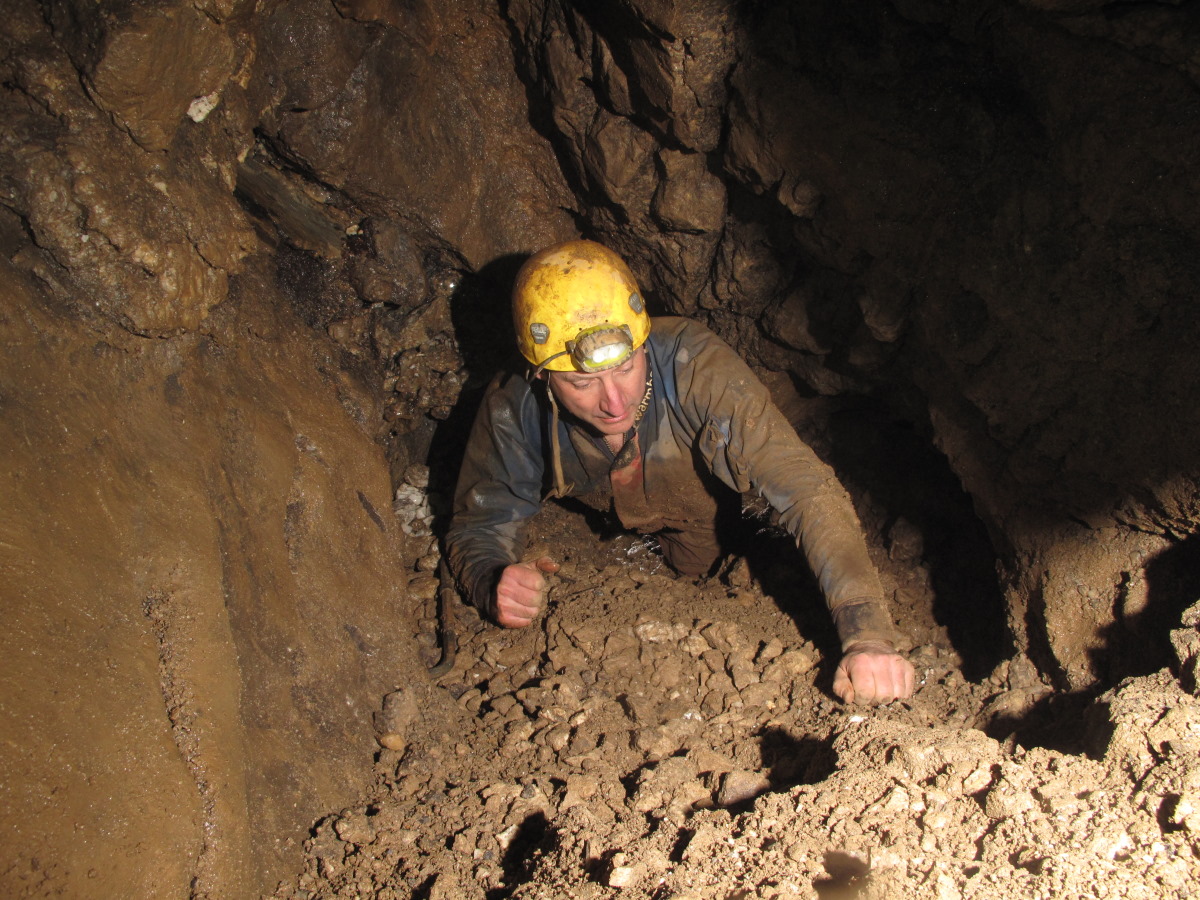 Bog exiting the breakthrough point, by Dave Cowley
It doesn't make sense for the revell's to back fill it as it is a great example of natural passage very near to the entrance .
The one nagging doubt is that why would towd man dig the trench ?
We now know that downstream heads straight for the end of Armoured mud ball crawl in the lower series and is virtually the same height .We also know where the upstream passage continues, and that is our next project .
It has become very apparent that the history of this part of the mine has been lost with the passing of the generations of the Revell's, and we would be keen to hear from anyone who knows anything about the construction of the lower steps and the mine area at the bottom.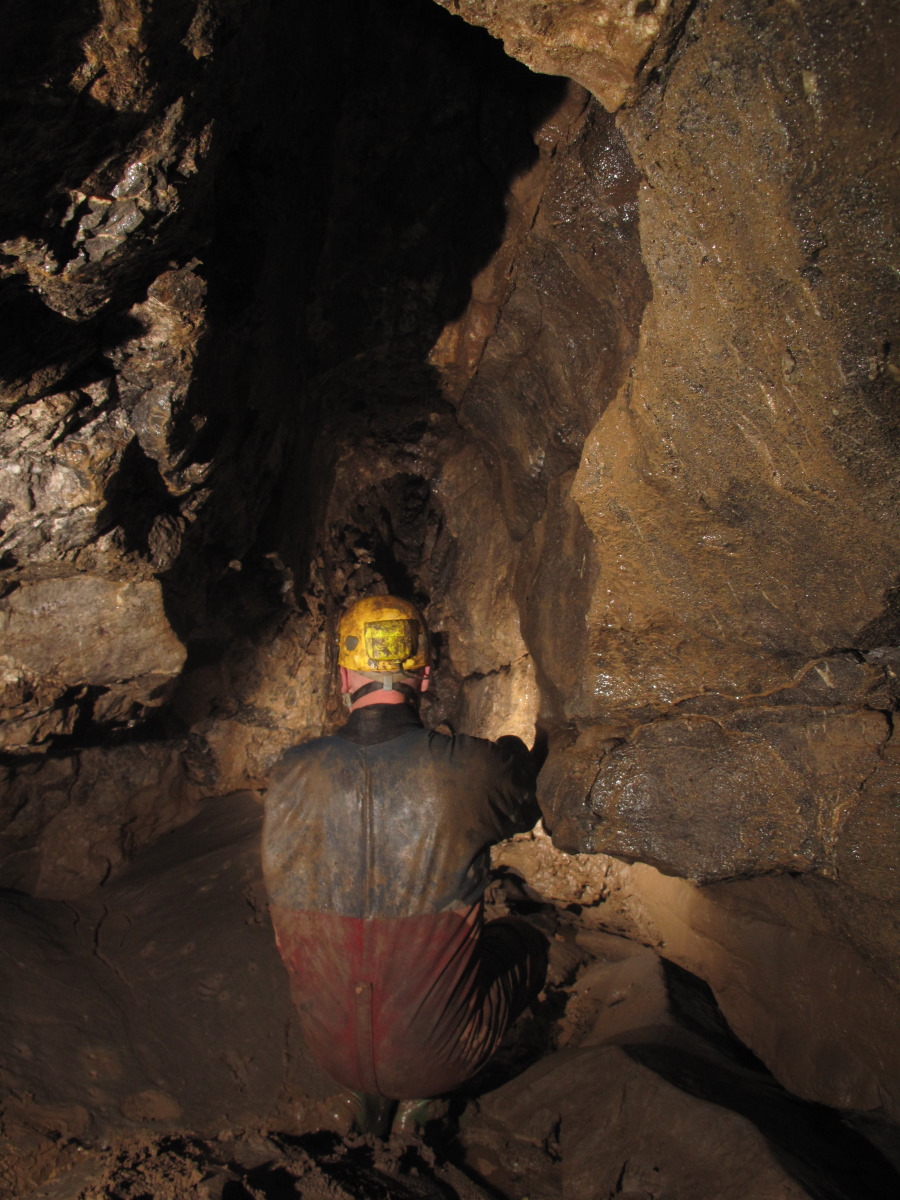 Bog at the downstream end, by Dave Cowley
It also seems surprising that nobody ever realised large passage sat within feet of the showcave .
This opens up exciting opportunities for a large section of cave heading towards Moorfurlong or elsewhere up the hillside, and is something we never considered, but when you reflect on the large amount of natural features in the mine area at the bottom of the steps, it suddenly seems obvious .
If anyone has any articles about the mine or early exploration of that area we would be keen to hear from you .The next dig is again through miners spoil so lets hope it was a big hole they chucked their rubbish down .
Dave Cowley , Bog (Team Average)
Details

Written by

Jon Pemberton

Hits: 2012
Not a great deal of activity in Bagshawe this year from Team Average.
Trips have been limited due to work commitments, however after last years distraction of the La-La dig, this year we had to decide if we should remain at Dead Ahead or leave and carry on with the lower series dig.
We dragged all the kit needed in during the winter months, to get cracking at dead ahead. The plan soon changed when the water levels dropped. Our quick referendum decided to leave Dead Ahead and have another crack at La-La.
We have made good progress over a few trips, and have now opened up a standing room chamber. The way on seems to be upwards still, so I decided to consult John Taylor for details of the sump survey's. On speaking to John we now realise our referendum may have been a sham (typical). We believed we were digging towards a tube, when in fact there is a good possibility it could go to surface close to the resurgence.
With water levels now back to normal, the Dead Ahead(xit) may be over after all. 2019 looks to be a return to Dead Ahead, although Mr Eavis informs me in a vote of no confidence that the dig is full of water.
To make matters worse, the Bowling Green has changed hands, and we are now left without a suitable watering hole. We should have seen this coming and arranged a proper backstop, maybe Mr Farage could help us with that one...
Onwards to glory (even if we are a bit slow).
Bog & Dave Cowley
Details

Written by

Bog

Hits: 2229
Lala dig 19.09.2017
Bog/Dave Cowley
Team average attempted to carry on with the Lala dig last night .Unfortunately the water levels are now to high to continue this year ,and the trip was cut short .Many thanks to Dave, for giving me the pleasure of swimming up to my neck.
On a more positive note, we were able to get in the pub for 9 o,clock . Hurrah .
Sadly the butties don't come out until late ,and we missed them .Very average evening in the end .
Details

Written by

Bog

Hits: 2030
Left and left again
We returned to the lower series left hand passage. On the third trip last night we started pulling boulders out of a choke 2mtrs in .
A return is planned with a longer poking device. Not being a place to visit in anything but dry weather, we may need the winter water to drop the choke if we don't get back in time .
There are a number of passages to the left of this passage, and lots of water coming in around this area, so fingers crossed.
Bog , Dave Cowley