Cussey Pot
During Lockdown 2020 a new hole was spotted to draught bigger and stronger than any cave in the Peak. We dug it open and this is what happened....
Details

Written by

RobEavis

Hits: 56
19th Nov - Rob & Jeff 
Pre-beers made the lightweight Frenchy fumble his way to the dig very ungracefully, but his poor performance was balanced out by me forgetting the hammer like a proper idiot. Capping away at the large boulders in the floor proved very hard work. One really big boulder seems to be holding one whole wall up but there's not really enough space to work down the side of it.
Nearing the end of the trip we had a bit of rethink and decided that it was make or break time for the dig, so I started to have a go at the northern wall to see how unstable it was. Turns out it was very unstable and not only did it mostly bury my legs but the sound of rocks falling away in the distance below was very very encouraging.
26th Nov - Rob & Jeff
Easy plan this week, no pre-beer for Jeff, especially after giving blood an hour previous!
On the way in we installed two wooden stemples in Coconut Airways which have made that climb at least a little bit easier for my unfit lockdown body. After the collapse last week the first hour or so was very easy work, the only hard bit was for Jeff finding space for all the spoil. Thankfully that shouldn't be a problem for much longer as a hole has opened up into the top of a rift. Access is still restricted by a few big boulders but rocks rattle away for quite a long way, with quite echoey sounds suggesting it gets at least a little bigger down there. Such a big draught coming out, it's hard to stay warm. I tried capping the boulders but one was proving very troublesome so we need to return to have another go.
We only heard from the others once we got home, sounds like they also had a successful time down IDM (http://www.eldonpotholeclub.org.uk/homepage/current-uk-projects/intake-dale-mine/425-freedom-26-11-2020). Me thinks there's gunna be fight what we do next week….
Details

Written by

RobEavis

Hits: 156
Rob and Jeff
Now that lockdown 2.0 has restricted our Teams to a maximum of two, the others did their own things whilst me n Jeff started afresh in Cussey. Back when we initially broke through we had two teams working, one at the Eastern front and one at the Western front. The Eastern dig went quickly and became "the way on" and the other dig (Shattered Dreams) was put on hold. Now that most of the leads in the lower stuff have dried up we decided to go have another poke at Shattered Dreams. This is the closest point to Doom, sitting 30m above and 16m horizontally to the south of a large rift cavern found back in 2012. Mostly importantly the draught in the far section of Cussey is the strongest in any part of the cave, so a connection must be close, right?
There's a few different ways on in Shattered Dreams but the decision was made to continue sinking a shaft in the floor in a small cross rift. Here hopefully the location just slightly away from the main rift should keep us clear of the worst of the big scary boulders. The going was pretty slow as the conditions are restricted and the mud and rocks are pretty jammed in, but nevertheless Jeff pulled a good 90 minute shift whilst I worked out where to put all the spoil.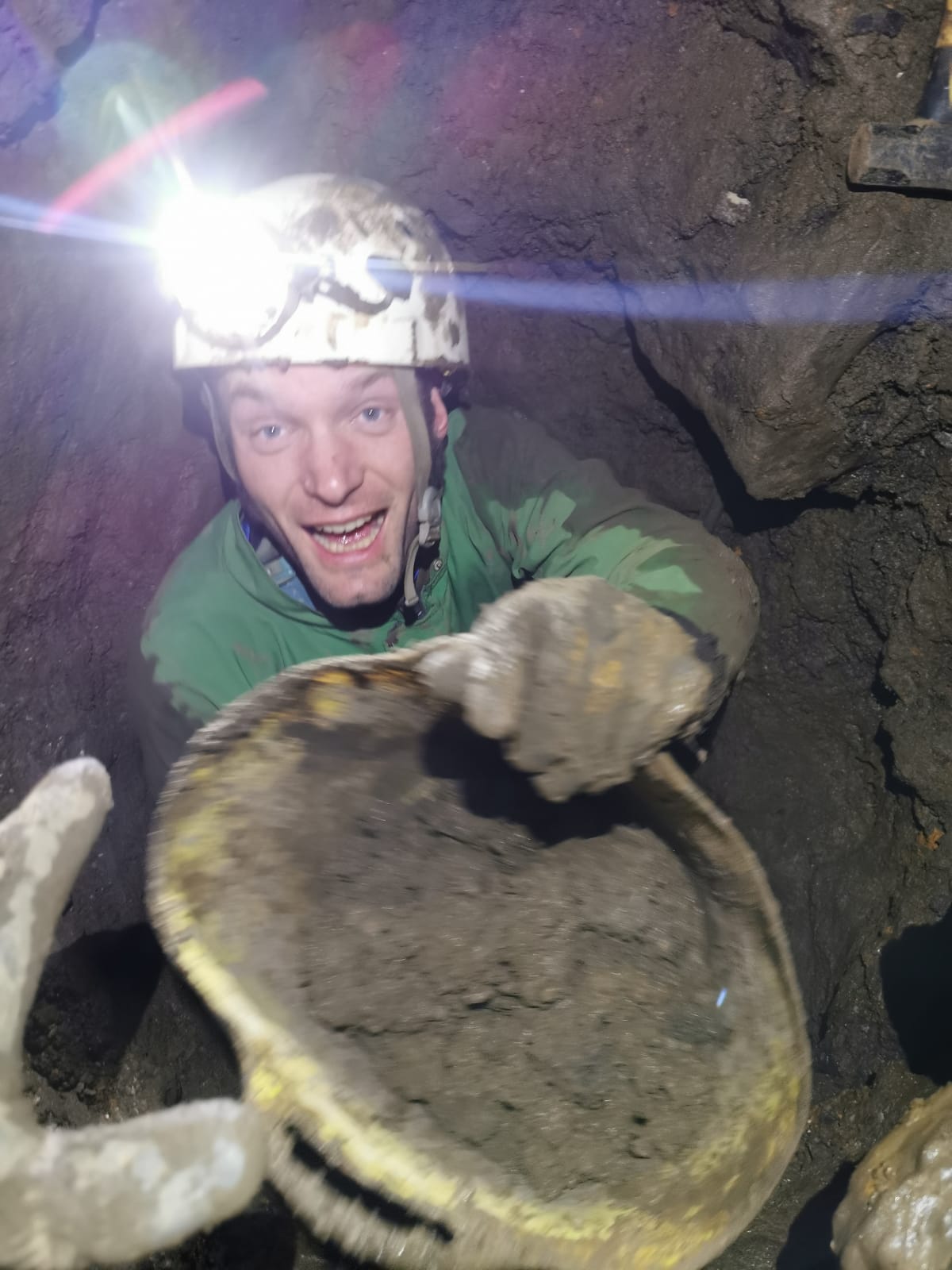 Jeff having too much fun shifting mud
I then took over and instantly caused much of it to collapse, which at least made conditions a bit easier! Soon we unfortunately unearthed a large boulder right in the way which needed capping. This was slightly disheartening. However once removed the clean-washed openness below with a huge draught coming up reinvigorated us both and the scene is now nicely set for the next trip. Breakthrough doesn't look imminent, but it's still making the right sounds at least…
Details

Written by

RobEavis

Hits: 221
Rob, Jon, Luke, Jeff
Last trip before lockdown so we had to make it count. Quick, socially distant beers in the car park then straight to it. I went on ahead to push a lead left from last time in Walsernice, whilst Jon used the other two monkeys to get a photo looking down NCA Pitch.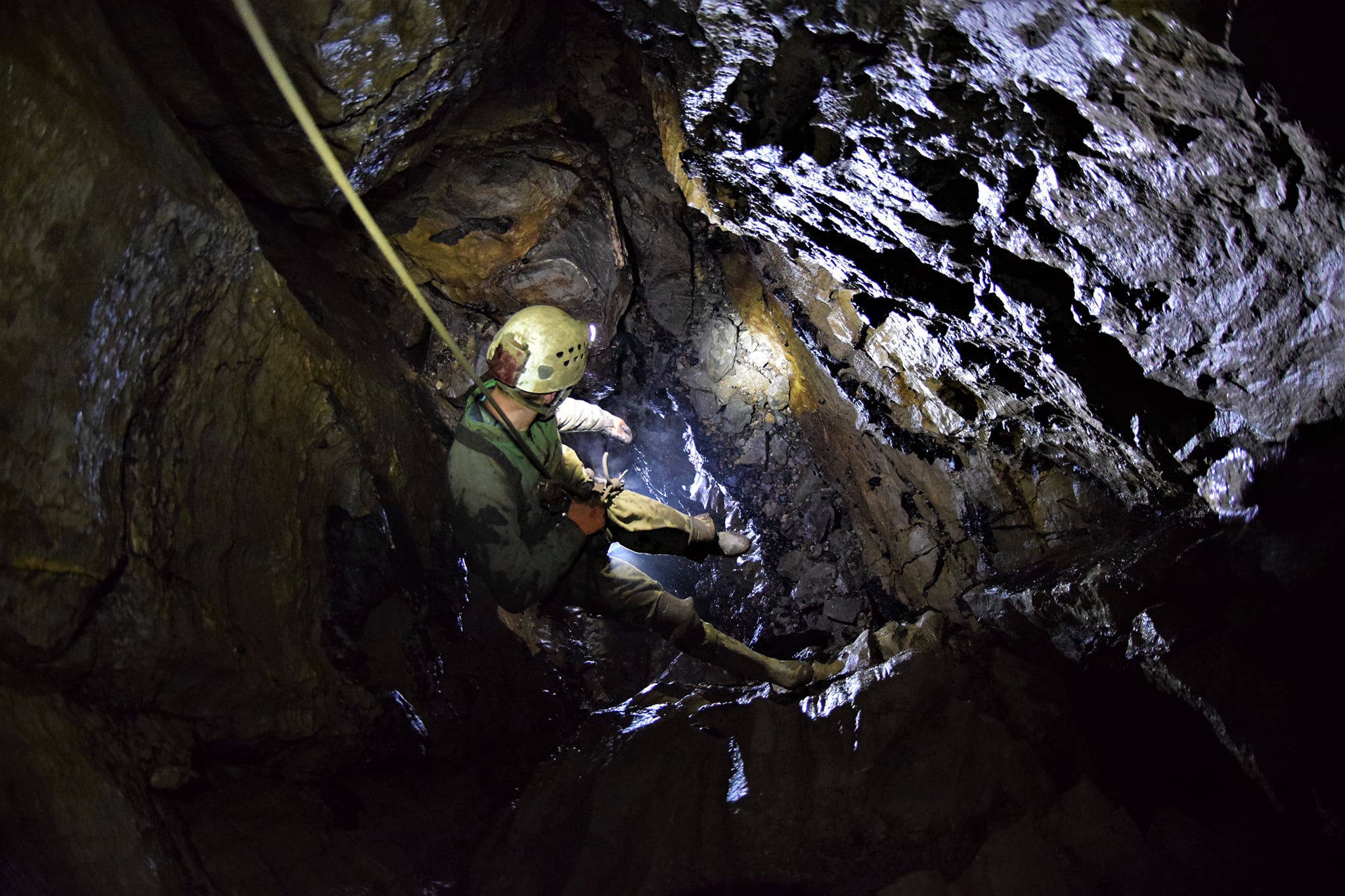 Jeff on NCA Pitch, by Jon
The lead is a tight rift down in the floor, hidden underneath some loose boulders which had scared Luke last week. I cleared them all away and slipped down to the end that Jon had got to. Here the main rift is choked with boulders but a tight window through into cross rift looks like it might be open beyond. I used my bolting hammer to widen the window very slightly then posted myself through and down. The far end of the cross rift got too small, but back under the climb down it was just wide enough to get back into the main rift and carry on down. Tight and loose, this went down for another 5m before it got really tight with solid bedrock either side. The rift did seem to widen another 5m down but didn't look very enticing and had no noticeable draught.
Meanwhile the boys had finished photoing and I asked Jeff to head down the Black Rift. We could hear each other very clearly through the boulders in front, but had no light connection. The survey proves that I was about level with Jeff so the rift below is the lowest in the area. I started surveying out, whilst Jeff headed over to the Movie Room. When I got up to near the cross rift we had a light connection and sounded very close, but it was far too tight for either of us to progress slower.
By the time I got all the way out (after getting partially stuck for a while) the others had popped off to the far end of Walsernice and were poking about in the roof at a dig I'd written off on the day we found all this. Therefore I bumbled off on my own to find some new cave and better company. I headed back to a draughting gap between boulders in the Rocky Horror choke which we'd found on 8th October. 5 minutes digging and I was through into new territory. A couple small boulder chambers (but smaller than that word makes them sound) and then a solid wall which seems to be the far side of the choke. Up to the left was a too tight narrow rift through which I could clearly hear the others on their way back across the Black Rift traverse (their dig had presumably crapped out). I asked them to join me and bring the survey gear and kept poking about. Far up in the roof of the rift I could see through a tight gap into a larger section with what looks like a solid roof. However the draught seems to be coming out of the floor but unfortunately all ways down look like proper projects. This area is directly above the draughting end of the Gloomy Passage below where there was evidence of miners, so there's a strong chance that a way off into the main mine level exists somewhere near here.
Now all totally covered in mud and Jon getting cold we made our way out. Partial optimism about the US election results upon surfacing balanced out the sad feelings of lockdown starting in 1 hours' time. Strictly teams of two or less for a month…
Details

Written by

RobEavis

Hits: 373
Team Crumpet (Rob, Jeff, Luke, Jon & Dylan)
With Dylan finally back from USA and sufficiently isolated we were finally back as a five. Quick catch-up in the Miners where Dylan & Victoria distributed our holiday presents(!) and we formulated the evening's plan. Jon and Jeff took Dylan down to the bottom where they made a shite effort to dig mine level. Turns out it's a much bigger job than Jon thought, and they sacked it off. Jeff and Dylan had another look around the Gloomy Passage, but with nothing to report.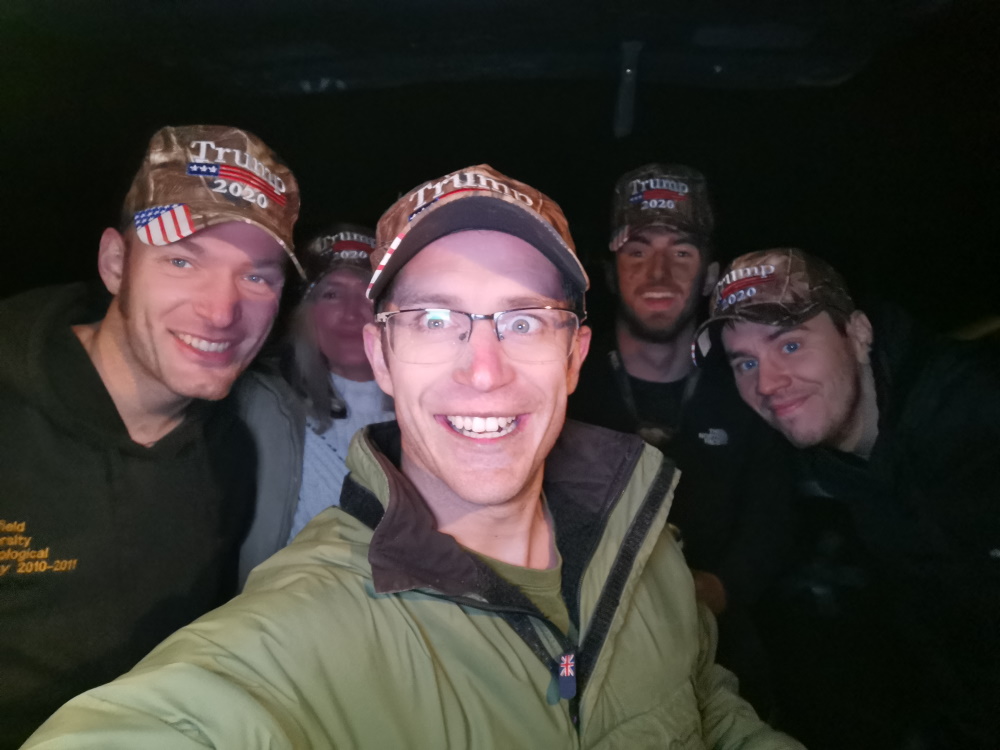 Our holiday presents from our Florida-grown Dylan...!
Meanwhile me n Luke were being a bit more proactive. Luke belayed my bolt climb up the 20m high Timewarp Aven. Dodgy looking rock and far too few bolts meant I got within a few metres of the top but had to leave the last bit for another day. From where I got to it looks like at the top the rift continues both east and west but is looking quite tight.
Jeff and Dylan then went to see if the walls actually are nice in Walsernice, before we bumbled our way back out for carpark beers.
Details

Written by

Jon Pemberton

Hits: 334
Just Rob, Jeff and myself on this evenings mission to tick off a few question marks left in the eastward extensions of Cussey. After a quick (freezing cold) pre-pint in t'Miners we headed over to the usual parking and hastily kitted up to get underground and out of the cold.
Rob pushed a tight continuation at the top of NCA pitch and after removing some rock (down the pitch) gained access to the continuation but was thwarted by a vertical boulder choke, with no draught present this was pied off.
Jeff and I double and triple checked a few holes in the floor of Time Warp I also made the second descent (ever) of Tight'un. The rift descends approx. 6m to an extremely dodgy fractured alcove which seems to be holding the weight of the world judging by its walls, the continuation in the floor becomes a too tight rift heading east and underneath Black Rift, again with little to no draught and dig access this was also pied off.
Now with Rob in tow we all went to examine the rift heading east from Movie Room. Here is another tight rift to descent for approx. 3-4m but with some mega loose boulders above your head and a large flake threatening to cap your tomb (and no draught) this was also pied off. Descending this rift would be super committing and exiting would be extremely hard without a ladder or SRT – It feels very much at home to something from The Dynamite Series in Carlswark.
We then inspected a traverse out from the head of Rocky Horror Pitch. Rob spotted this last week and a crawl up through boulders gained him a view through to a bedding plane but the entry was threatening to bury him alive. Luckily Jeff could eye his light from above and pushed down through large boulders and into the bedding which Luke had pushed into a few weeks previously but deemed unsafe. Jeff pushed a squeeze in the floor and once he had gardened enough pushed down a muddy slope to a 3m squared void in large boulders. This new chamber seemed to draught from east and above but with no obvious ways on it was decided that a dig in the bedding above would be the easiest way to access the draughty place. A return trip is planned to dig this along with the Mined level below in Rocky Horror and the floor of The Gloom Room.
We're rapidly running out of leads in the eastward extensions of Cussey and with only a climb in the roof of Time Warp left to do after the stuff mentioned above we will then return our attention to the westward extensions.