A solid effort from TA this evening with all honorary members present: (Eavis.R, Cafferty.L & Pemberton.J)
We were keen to drop the newly discovered pitch from Wednesday so made a super rare but not un-heard of 2-in-a-week trip. Again we met at the cave and downed a quick pre-beer to sort us out and wasted little time in reaching The NCA Section with the C in tow. The place was unfortunately nearly void of draught this evening which was a bummer considering the outcome as it would've made exploring a lot easier but heck! – We had a massive pitch to drop.
Rob bolted the pitch and "ummed and arred" enough to think Jeffrey was present – to be fair we were balls deep in a large (for the Peak District) boulder choke and any sense of being "bomber" had gone out the window. Unluckily I dropped my glove which caused huge complications until retrieval half way down. Rob had to place a re-belay close to the bottom to steer clear of a major rub point, with the rope free Luke followed as did I. The pitch dropped down through large poised boulders with the westerly wall being the only thing solid in there. Approx. 12m down the pitch ledged out coincidently right where the re-belay was placed. Idiotically the re-belay was anchored into a smallish (on the scale of things) boulder chocked in between two other boulders which we'd just abseiled through. Rob must've seen the floor and thought, "bugger it, I'm nearly down…"
Once we were all on the floor some -16m down (not the -50m [at least] we were expecting) we quickly met a fateful conclusion of being well and truly crapped out. The place has widened out into a chamber like place but on further inspection it looked more like the solid walls were just really large boulders with the exception of the westwall. The floor ramped down on boulders to a horrible silt termination where the water appears to back up to this level. With no ways on this would be dig no.1, one being a number and not its number of priority.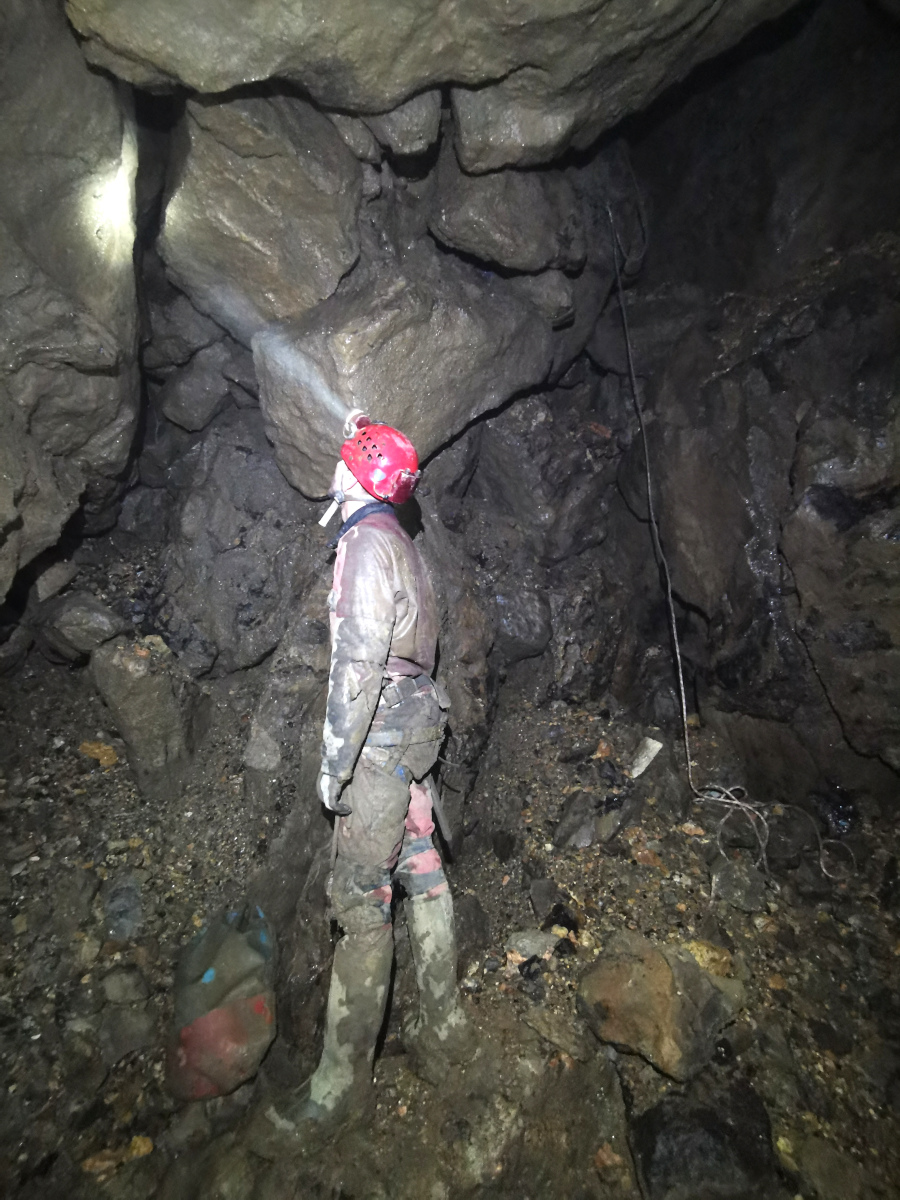 Luke at the bottom of Rocky Horror pitch
We left the pitch now named "Rocky Horror" rigged ready for us to survey it on the next trip. Once up we inspected a few more voids in the choke but none proved fruitful. Luke and I checked a small hole I found on the previous trip which looked super dodgy. After the removal of a few boulders we were left with a squeeze under a dodgy chock stone which gave us access to a pitch down with the floor out of view. It felt very much like summat out of the Carlswark Dynamite series but this was left for now and would require the removal of a boulder to push safely.
Further back towards the main chamber Rob inspected a southerly lead (I say southerly but all estimations were made from an app on Rob's phone which possibly required signal to work properly…). He followed the lead for some way, through tight rifts and between boulders, and once he'd reached the head of the Rocky Horror pitch he decided to turn around. It was getting late so we grabbed all of our gear and made way for the main chamber, now coined "Time Warp".
We sat and thought through our potential leads left to visit. There was a climb in the roof of Time Warp which would require some proper gear and a lot more bolts, secondly was the climb up The Black Aven. Rob and Luke had noted a passage heading off east on the previous trip and with a little push Rob kitted up ready to lead the traverse from higher up in the chamber with the 3 bolts he had left. After knocking down a load of loose rock and me nearly falling down the pitch (luckily Lukey boy saved my life) Rob made swift progress to safety beyond the abyss below and after checking to make sure it continued he anchored the rope his side and we fixed the line at each bolt. I followed and after a little moan so did Luke. A climb up and over a loose boulder led to what we now call "Walzernice" an eastward trending keyhole passage with various collapses along the way. This continued for 30 or so metres to a complete choke passing under an incredibly fractured chocked rock leaning precariously over one's head nicknamed "The Stemple of Doom".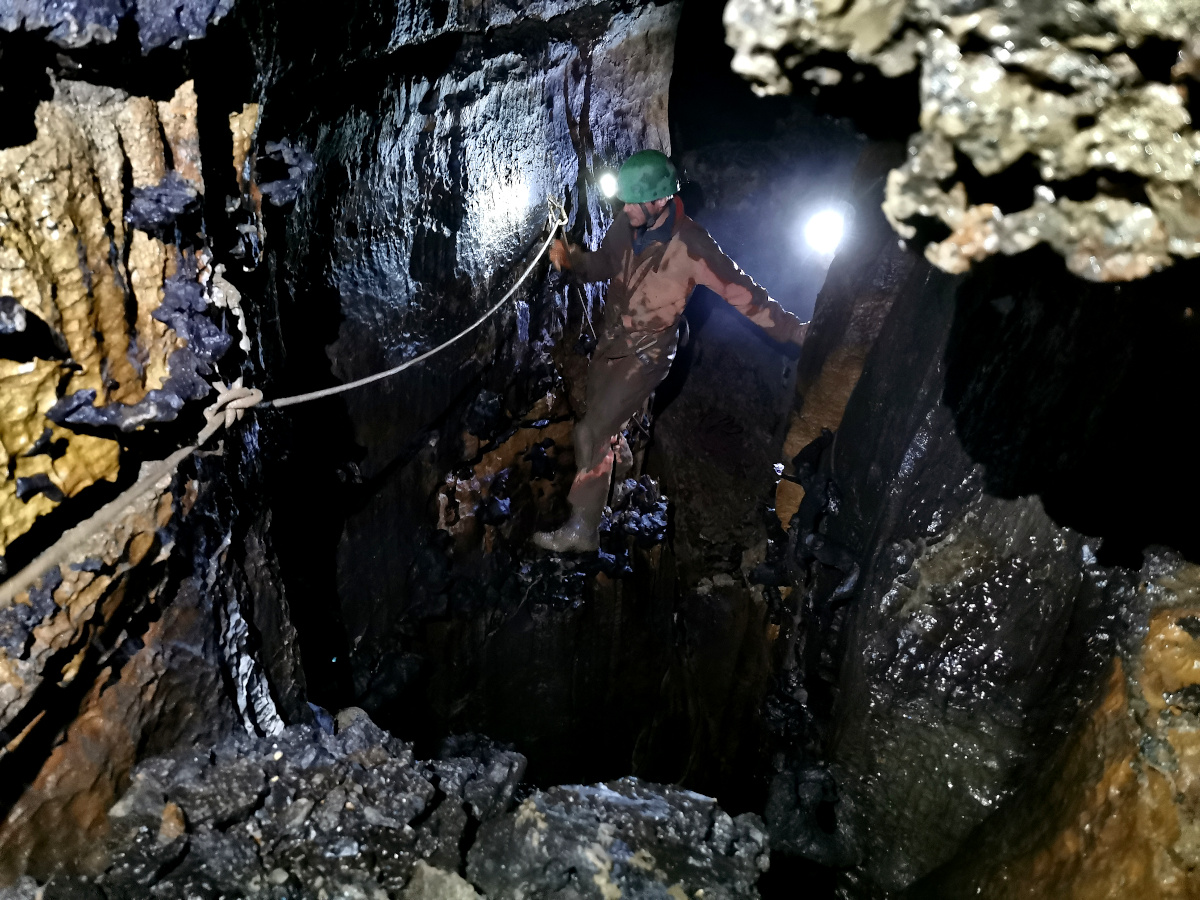 Jon traversing across the Black Rift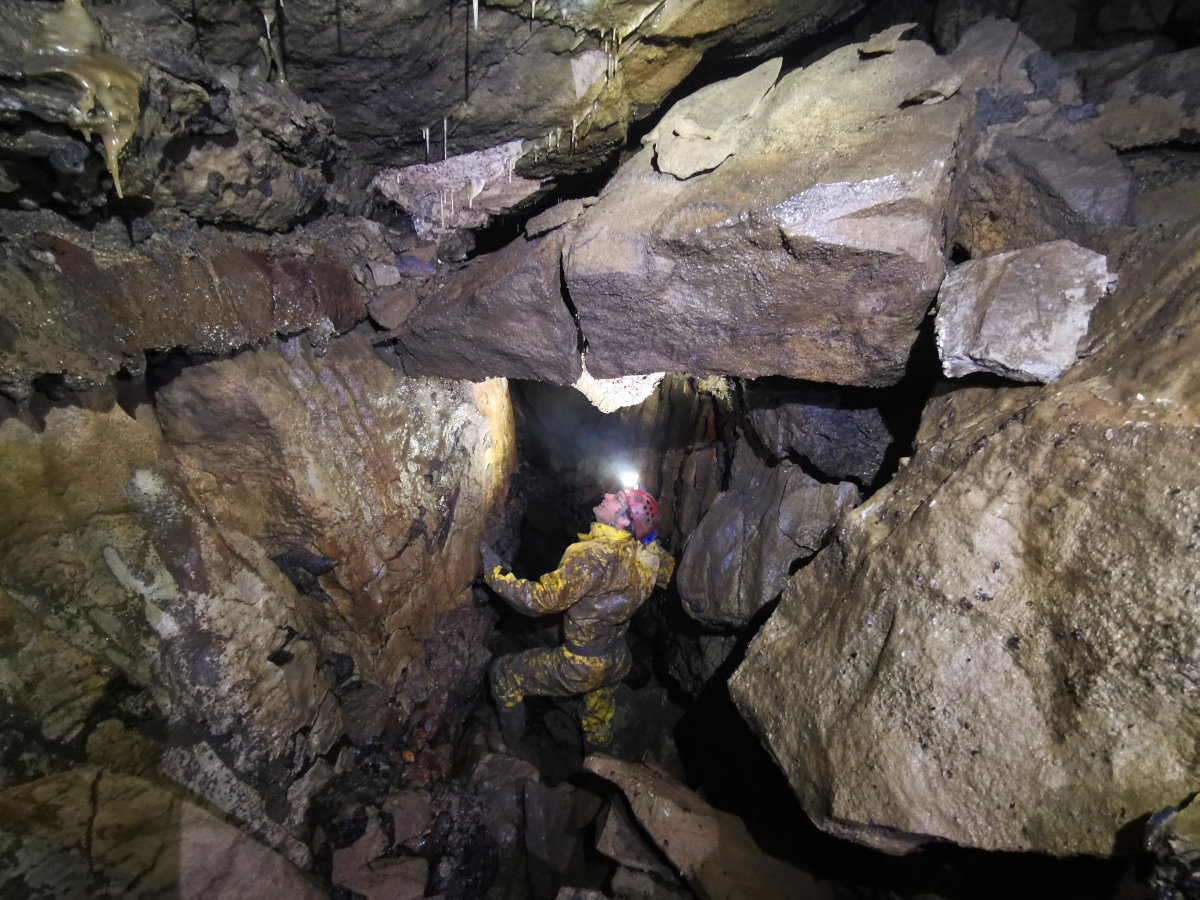 Rob below the Stemple of Doom
Rob checked out a small lead heading off from the end but to no avail. After a little "schninkling" we headed back down to Time Warp and checked out one final lead in the boulder choked floor. Luke had spotted this first when we found the main chamber but shrugged it off as it looked pretty ghastly. A climb down through boulders followed by a squeeze under some more boulders led to a tight vertical rift, "Tight'un", in what appeared to be solid rock below the choke. I took lead and climbed down as far as I could with my SRT kit on. I stopped at a tight section then let Rob pass me who explored below and after consulting his compass realised the bottom most section (roughly 6m below) was heading due south towards The Rocky Horror and ended at a tight rift which'd need capping but this seemed to be the only place which was draughting.
Jon exploring along Walzernice
We headed once again back to our perch above the choke in the main chamber and after exhausting all the obvious leads decided to leave. Surveying it is our next priority and fingers crossed the draught will be present.
Two late nights a week really buggered me and I crawled up most of the climbs pitches cursing my stupid Jon's Drum and ever bringing the bloody thing. What was strange was that when I exited the draught was pounding out of the entrance which the guys also noticed around the same time – go figure…