Once again 3 of the caving world's finest explorers united together & continued exploration in Cussey Pot (aka: Team Awesome, aka Rob, Luke and Jon).
We went to the pub tonight, first time in a while - It was brilliant. Rob calibrated his DistoX in the beer tent then we pushed on over to kit up. After pushing to a few conclusions last week and being baffled with lack of draught we decided the next job was to get it surveyed so we could see what was properly going on in this complex place. It kinda reminds me a lot like Hungerhill Swallet void of water crossed with Waterfall Hole without the water...
With Rob on PDA, Luke on Disto and me spotting we cracked on and with only a minor initial blip straight off the bat down NCA pitch. Whilst Luke corrected his blip I pushed a little side passage with the help of Rob moving a large boulder from the entrance - it went nowhere. We continued forward and made a route through the choke and headed towards Rocky Horror first. It all went swimmingly and we admired the boulders from underneath as always, The chamber at the bottom was nil of draught but I made an exciting discovery waiting for the others to arrive. I noticed a dark bit of rock in the mud floor and on closer inspection it turned out to be a rotten timber! - Holy Crap! - i thought. T'owd man has been here. I shouted up to the others who dismissed it off and as soon as Luke was down I noticed two more artefacts, evidence no.2 - one single shot hole on a large rock hanging from the wall. This confirmed my suspicions. When Rob arrived I found evidence no.3 a small picked section as though T'owd man had started to make a stemple pocket. Rob found a further potential lead at the bottom of the chamber heading back towards the choke which'd require further inspection, we also noted that it'd be worth a prod in the collapse where the Miner's had appeared to have come from. Very strange how there's no other evidence of mining activity anywhere else in the cave.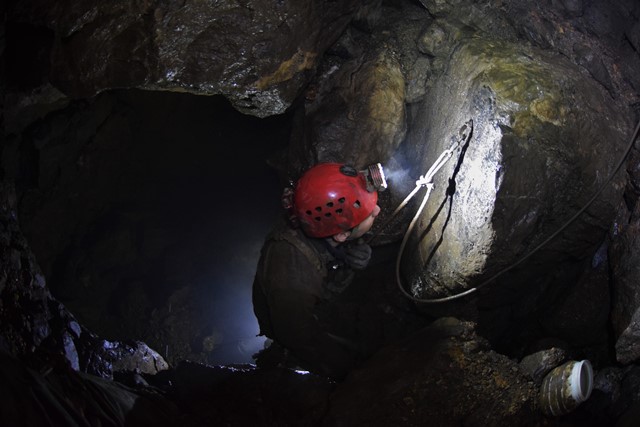 We then pushed on to survey Wallsernice which was fairly easy. We noted a slight draught in the rift in the floor which appears to be only a few short metres away from a nasty tight rift below us in the choke off from a section we've called "The Movie Room" as everything seems to move. After taking a few photos Luke and I had a quick look at The Black Rift and we both had a massive urge to dig here! - which we plan on doing next week. It's still a complex section and we've yet to locate the massive draught coming out from the pitch head of NCA Secton.