The unfortunate thing about heading to the arse end of Sooty in Cussey Pot is that we don't have lots of time for the Pub. Unfortunate because we do love a good pre pint but wanting to get out before midnight is also a priority considering how much Lukey boy is beginning to hate the place from constant repetition. Anyhoo...
We met at the usual time in the usual place and started to kit up, albeit a tad slow because the heat. We headed straight to Inglorious where Luke dumped his kit as we only needed one, this proved to be a crap idea but anyhoo... Rob and Jeff pushed on to the draughty downwards choke in Sooty underneath the climbing shaft. I was convinced this would be the one! Luke and I stopped for a quick look at some potential leads along the 280 level which we'd noted on some previous trips, all of these proved to be nothing of importance. By the time Luke and I had finally climbed our arses up the sooty pitch and made contact Rob and Jeff they had already broken through (it took about 15min). After a quick snap at the pitch head squeeze we quickly ferreted through.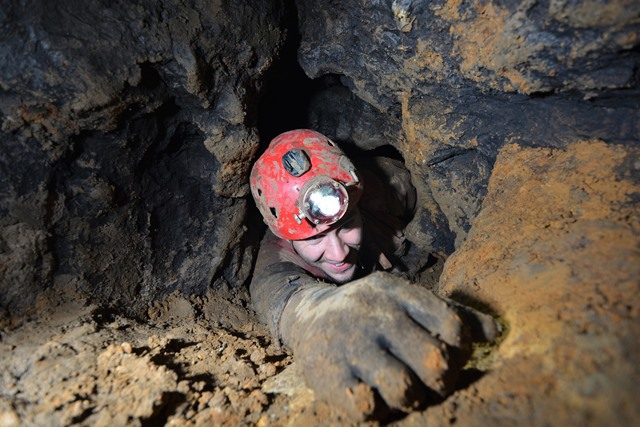 By the time I reached the choke Rob & Jeff were already through and Luke was engulfed by boulders at the top of the choke, within seconds he had dropped through. The route through involves a tight rift/boulder squeeze which drops you vertically for 2m onto a steep mud slope in a rather impressive but rather filthy chamber. We're unsure of what this place actually is. It feels natural but the obvious evidence of T'owd Man with some large old timbers but no shot holes suggesting its old, old workings. 
In front of us a small continuation headed on the right but soon ended at a solid wall with a boulder run in on the left. Follow this back and a clean washed route led through some large boulders which is where the mega draught was heading! A quick peak up and we got a visual of a chamber above the choke with a strong echo. We all had a quick peek. Rob managed to get his phone and helmet through to get a proper visual of the chamber above which was awesome but a few boulders would need removing before you could squirm your body through. 
Now freezing we decided enough was enough and started the long journey back out. We must be so close to the bottom of Rocky Horror now but Cussey has still yet to reveal its secrets. 
Onwards and upwards - Literally.