Just Team Awesome Proper tonight - Rob and I which happens rather frequently but we get shit done.
After a hasty pre pint in The Miners we quickly dashed off (Rob in pee-wee) and descended into the depths of Cussey. We made a pitstop at the bottom of Nomenca Rift and gathered 4 pieces of scaff and clips with good intentions of needing it pretty sharpish at the pointy end of the cave (the draughty bit at the bottom of Rocky Horror). The trip through from here was not an easy one with the large scaff tubes attached together luckily with just TAP in motion we handled it without problem going full gas all he way.
Once down at the bottom Rob started to remove a rather large boulder blocking the draughty hole. Unfortunately it wasn't as draughty tonight as last week but it was still the best thing we had going. Rob made excellent progress removing said boulder and a few more underneath it too. He stood back for a moment to inspect the situation, we now had a good view through boulders to a void with potentially a way forward. We were expecting to be going down and not so much in to the choke but any progress is good progress when finding cave. I jumped in the hole and removed some mud from the floor just enough that a small lad like Rob could squeeze underneath. Having judged the boulder choke situation we agreed that we couldn't really remove any more boulders without undermining the choke above which would destabilize pretty much everything up to the the top of the pitch in Rocky Horror and beyond - I don't think there's much that wouldn't move up there... The scaff was now redundant as it was pretty bomber bar the loose stuff.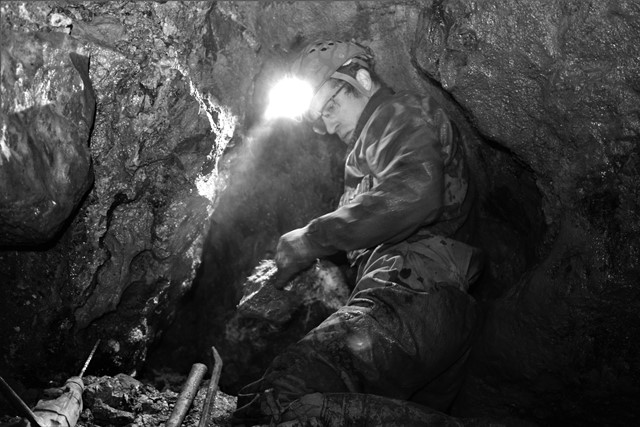 After agreeing that there was nowt left to do Rob jumped in and squeezed under the boulder superman style with both arms above his head (who taught this guy how to cave - SUSS, lots to be said about them). Once through he pushed further into the choke feet first admitting that he didn't think he'd manage to do that. He was now in a small chamber within the choke with a large (actually massive) boulder chocked in the roof with a smaller tv size boulder held up on hopes and dreams. Rob finally persuaded me to come through and after negotiating the squeeze I made my way to the chamber which Rob started giving funky names, It was a sloppy horrible messy place and once through the boulder squeeze that's the only thing I could think about, returning back through that squeeze to the safety of Rocky Horror - I called this new chamber The Gloom Room! Rob couldn't understand why.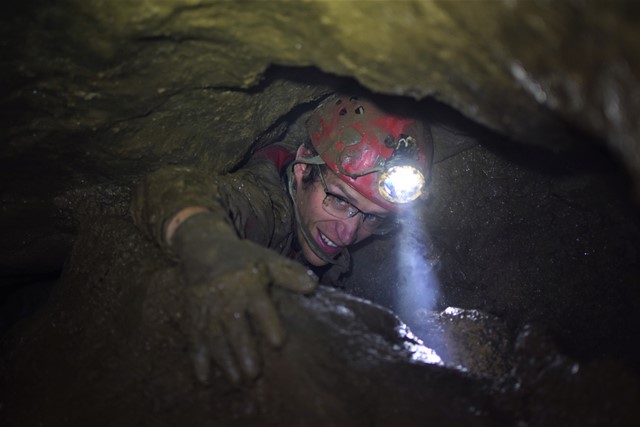 We frantically started digging a hole in the floor which looked to be easily passable. Shortly afterward it was visibly not gonna happen as the boulder we were digging along turned out to be massive! Rob had found a climb in the roof (over the horrible tv size boulder) he gained access to the climb with the use of my back as a step up as he is quite short. He shouted back how exciting this looked. He'd gained access to a phreatic tube which he pushed for approx. 15m to a muddy conclusion but it wasn't all boring as there were lots of exciting question marks along the way (even a shot-hole cum natural mark on a huge boulder which left us baffled searching for theories). We left on a high and both safely passed back through the squeeze without too much.
Next week is gonna be the big one right?